Consultancy - Parallel Pyramid
Impact Consulting | Data Driven Research | Quality Analysis
Parallel Pyramid is an arm of HarVa devoted to re-engineering of products, services and marketing practices across organisations for the development of rural economy. We bring innovation and expertise for corporations, government agencies and academia for an objective understanding of the development process in rural areas. Our expertise is a result of research, data generation and analysis by our expert network across various development verticals.
Our practice is based on Triple Helix Model and flourishes at the intersection of public policy, corporate action and academic intervention. We have expertise in understanding the dynamics of rural development and industrialization. With our understanding of the rural economy, we can bring an objective overview to your plans of going Rural be it for your customers or setting up servicing centers or Rural BPOs. Our awareness of the problems has been sharpened through extensive work done on several rural projects. We offer a comprehensive range of consultancy services to both private and public sector clients, ranging from agricultural businesses, SMEs to regional and national agencies
Our mission is to promote, conduct and foster research based consultancy in the broad fields of economics, administration, social sciences and political development.
Rural India-Some facts
• There are nearly 42,000 rural haat (Super Markets) in India.
• Of the 20 million who have signed up for Rediffmail, 60% are from small towns.
• 30 million Kisan Credit Cards (KCC) issued so far.
• Electricity consumption increased from 17.6 % in 1980–81 to 20.2% in 1999–00.
• In the proposed agricultural reforms in the tenth plan, government introduced agriculture credit of INR 60000
Cr Village towards road programme to connect 1,90,000 villages.
Rural India with its traditional perceptions has grown over the years, not only in terms of income, but in terms of thinking. The rural markets are growing about 2 times faster pace than the urban markets, not surprisingly rural India accounts for 60% of the total National demand. With India entering globalizing mode and the rural revolution is being governed by rising purchasing power, increased saving and changing consumer behavior.
Rural India-SWOT Analysis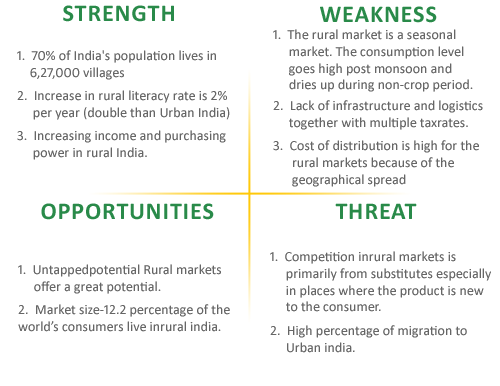 Tailored to suit individual cases, every client is unique and so are our solutions.
Our Concentration
Skill Development
Primary Healthcare
Rural Electrification
Digital Inclusion
Financial Inclusion
Our Philosophy:
• Our model has been tailored to suit individual cases – every client is unique, every property is unique.
• We work extensively with clients to make effective and efficient management structures.
• Each management model is customized to the individual situation.
• We ensure cost efficiency and quality standards of performance.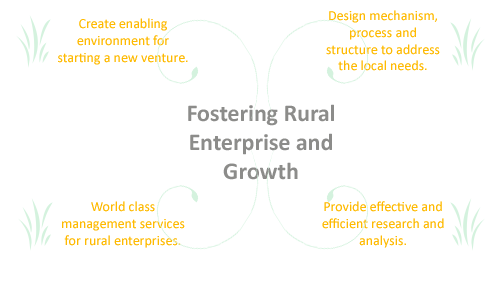 Our Services:
a) Product Research and Development: Rural products have to be specifically developed to meet the needs of rural markets. We can help you develop rural products through a great deal of research like feasibility studies, rural aspiration, profiling, etc.
b) Branding and Marketing: Rural branding and marketing channels are very different from urban style. Our research and in depth insight into the working of rural markets helps us to brand and manage communication campaigns with a lot of rural sensitivity.

c) Start-ups: We help our clients to explore various options for starting profitable business ventures. We also provide management services to various rural companies.
d) Market Research: Rural markets behave most differently from urban markets. Our strong insight into rural consumer behavior and sensitivity to their values and beliefs and our effective rural market research by gathering data and analyzing, help our clients make better informed business decisions.
Our Projects:
"CSR AND Social Business: A Pancea for Social Problems of India" affiliated with Delhi University.
Budget and Economic Survey Insights for Rural Development
Impact and Management after Companies Act 2013
Our Expert Network:
University Excellence Centres : Wharton, London Business School, Princeton, Harvard, Indian Institute of Management(s), Indian Institute of Technology(s), Delhi University, Jawaharlal National University, BITS-Pilani and others
Government Institutions : National Institute of Science, Technology and Development Studies (NISTADS), National Council for Applied Economic Research (NCAER), National Skill Development Corporation (NDSC)
Corporate Groups: World Economic Forum, FICCI, ASSOCHAM and others.